St. François Xavier Roman Catholic Parish.
1053 Hwy 26, St. François Xavier, Manitoba, Canada, R4L 1A5

Sunday Mass at 9:00 am (coffee and fellowship)


Welcome to the website of the St François Xavier parish. We are the oldest Catholic Parish in the Archdiocese of Winnipeg and continue to be a vibrant parish community.
On this site you will find helpful information about our parish and the services we offer. We look forward to seeing you in person, by phone or email.
Click HERE to learn more about our 'Save Our Steeple' fundraising campaign
To make a donation click on the 'Donate Now' button.
The parish welcomed Father Michel Nault in August 2015.
Short Biography for Fr. Michel Nault
I begin this bio by saying I was born in 1959 at St Boniface Hospital to Leo Nault and Helene Audette. My primary school was at St Eugene and Ste Marie schools in St Vital. I graduated from High School in 1977 at College Secondaire de St Boniface. Right out of high school I got a job as an orderly at the Tache Nursing Centre, a work that I enjoyed very much. After a couple of years I accepted the challenge to study nursing and graduated as an RN in 1981 from the St Boniface School of Nursing.
After 6 wonderful years at the St Boniface Hospital and encouraged by my experiences in prayer groups and youth groups I decided to enter the Seminary to discern the call to the priesthood in 1987.
My studies brought me first to Saskatoon at St Thomas More College at the University of Saskatchewan for studies toward a Bachelor in Philosophy and then to London Ontario at St Peters Seminary for my Masters of Divinity from the University of Western Ontario (a total of 8 years of studies). On May 18th, 1995 I was ordained at St. Mary's Cathedral as a priest for the Archdiocese of Winnipeg.
My first year as a priest I was assistant at the St Mary's Cathedral after which I was made pastor and a country priest. The past 19 years I have enjoyed the countryside serving at Deloraine, Ste Rose du Lac, St Lazare and St Laurent. I was not at all disappointed when this summer I heard I would be remaining in the country serving Elie, St Eustache and St François Xavier. I am grateful for the warm welcome I have received and am looking forward to many years of serving the Lord with these parishioners.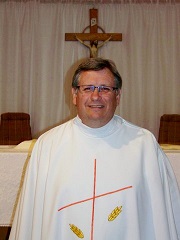 Father Michel J. Nault
Pastor
Phone: 204-353-2516
Email: michelfr@shaw.ca
Fax: 204-353-2229
Yvonne Wood
- Parish Contact
Phone: 204-864-2026
stfrancoisxavierparish@gmail.com